The story of Timophey has begun like the story of Belobrysska because they are siblings (along with Vesnushka and the step sister Banditka).
The box with small kittens was abandoned near the cellar's window hole where the other homeless cats dwell and fed.
Kittens were fed during the month, they survived in the vestibule of the nearest building's entrance and in the cellar. There were still four kittens when we took them.
So, Timophey had emerged in our house by the end of July 2016.
On the earlier pictures Timophey looks very similar to Belobrysska, but can be distinguished by the small black stain on the top of his head.
He, of course, has different "facial expression" but it isn't so conspicuous at the first glance…
As other cats from this family he was treated from eye illness, received immunomodulators and good feeding.
When his eyes had become normal we made some PR photos.
Nobody took him while he was a little kitten and very quickly he became a big cat with long legs and large nose.
For now he is the only male cat in the cat's room. Of course we couldn't leave him unneutered but he tyrannize other cats a little anyway.
Since he has no other aims, besides chasing the cats all over the room, in the leisure time he, like a real man, just sleep or eat.
He likes to eat very much.
In present time the meaning of his life is to break free from the room and to make some chaos and destruction.
On the video below Timophey is finding his own method to fish out a lemon peel from the cup of tea.

And on the picture below he is discovering for himself the magnificence of the Ming vase.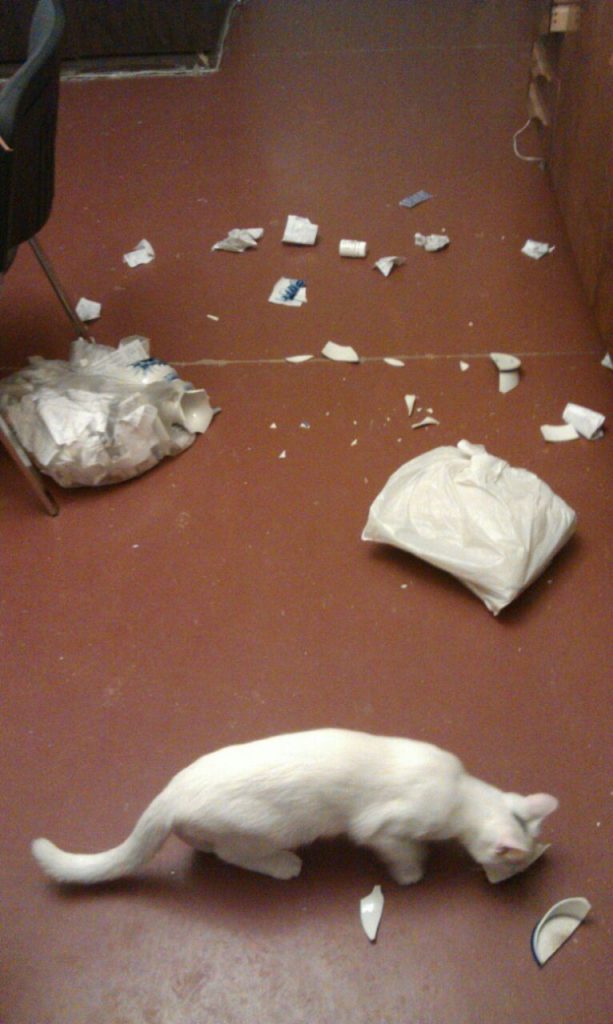 In general, he is a good cat. He is rather affectionate to humans, he likes to be stroked and to sit on the hands.