In the end of October 2017 a group of small children brought to us a box of kittens…
Children played near the railroad, which is about 2 kilometers form our house, when an adult man came to them and offered a paper box with four kittens inside and 100 rubles for the task to find a new owners for them.
Apparently, that were kittens of his own cat because they were healthy and in good condition. It's a typical situation when people do not neuter their pets, make problems and then try to find a cheap solution or, which is better, to shift this problem to somebody else's shoulders.
Children honestly tried to work off their money and during the long time that day looked for somebody who would take a kitten. Of course nobody was interested so they couldn't find anyone.
Somewhere on their way toward our yard, children found a local cat from the cellar with four little kittens so they decided to take them in the box too.
After some time of vain efforts, when kittens already began to freeze, children remembered us, because a couple of years ago they helped us to find Banditka & friends and so they knew that we help cats. Children knocked to our window and though we already had 13 cats in our flat my wife couldn't refuse and we've taken them all…
We took a chance and made a few shots on the street under the daylight.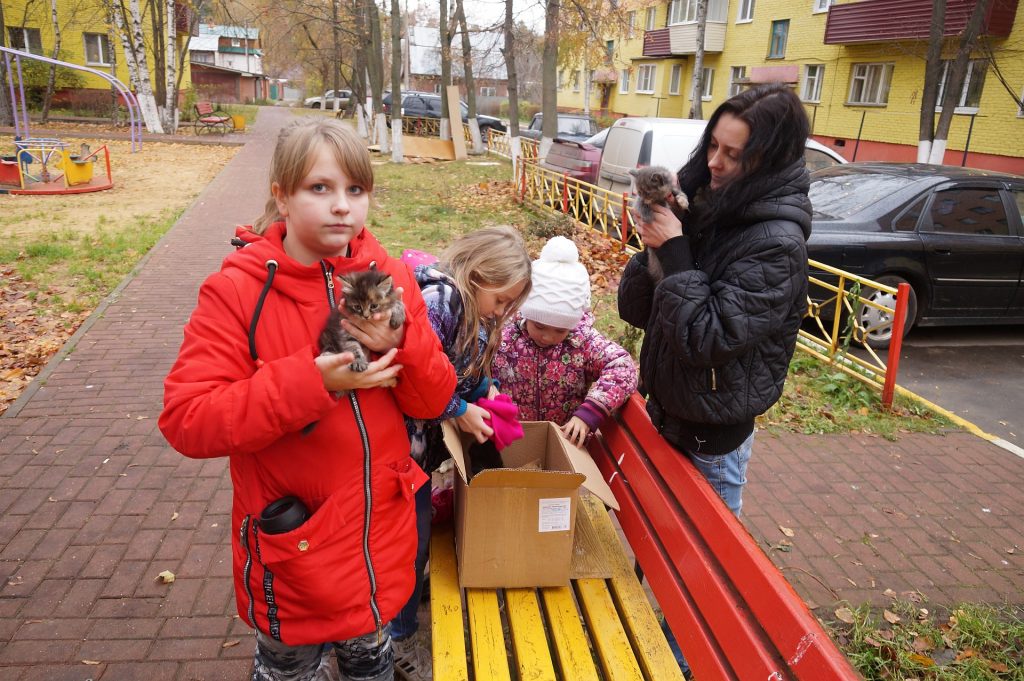 Kittens from the railroad were older, larger and in much better condition. They were about 4 weeks old.
Kittens from the cellar were small, scrawny, with eye discharge, they had a number of parasites and couldn't eat themselves yet.
We put large and small kittens into separate cages.
Small kittens for about a week had been sitting with Nose, who had been relaxing in our flat after spaying.

At first Nose was shocked, because she is a feral cat, but after a few days she began to treat these kittens like her own. We believe Nose, that accidentally happened to be here, helped small kittens to accommodate during their most difficult time.
Large kittens for about a month had been sitting with Grayish kitten, which in the Summer 2017 had been given us by children too 🙂
Unfortunately, because children have sat all of them into one box – big kittens got some problems from the little ones so it was necessary to treat all the kittens form eye discharge with antibiotics, immunomodulators and eye drops, so we couldn't begin adoption immediately.
We also had to wait relatively long time before small kittens got better to treat them from fleas which they have in abundance.

When I am writing this words, in the beginning of January 2018, all kittens are doing well, they are healthy and 3 of them have already been adopted.
They eat, as adult cats, 3 pouches of wet food per day and begin to eat dry food.
Each kitten, of course, has its own personality and habits which we will describe in further separate posts.
We will make many pictures of kittens, how they grew up and what kind home they will have found.
Small kittens:
Mashen'ka
Ginger kitten
Squirrel-cat
Dolly-cat
Large kittens:
Vasilisa
Anfisa
Siberian girl
Siberian boy