Pouché appeared in our life when we had not yet had a separate cats' room.. cages.. cats for adoption… we had our own bedroom.. with wallpapers..
A couple of kittens that we had found by that time we left for ourselves.. so we lived in the company of an old cat and two kittens.
Two kittens Pouché appeared in the beginning of summer 2014.
They were, by the old tradition, which hadn't been known for us yet, abandoned in our yard. The yard, where a few people regularly feed cats.
One of the kittens hid from a driving rain and screamed all night long as loudly as he could in a cellar's window right beneath our windows.
This is how we were forced to take home Pouché №1 in the middle of the night.
About the existence of the other kitten we became aware the next morning.. he was screaming and running for all passers-by.. unfortunately, he caught an eyes of a children which swaddled him in cloths and played with him for some time on the playground with a tacit approval of their parents.
After they had become tired with playing they put the half-dead kitten into a cellar's window, where the other homeless cats live.
This is where we found the half-dead Pouché №2.
That was the beginning of the long process of adoption for these two kittens.. Process, that lasted all summer.. Summer without vacations… during which I became a hard smoker and injured my back…
Such an emaciated kittens we hadn't seen yet… they were a little skeletons that were being eaten alive by fleas… White kittens seemed ginger because of the congealed blood on their fur.
When we began to treat them from fleas using the spray in the bathroom, a hordes of fleas ran from the bodies of kittens to their heads to save life.. They crawled in the eyes, into the ears.. We hadn't seen anything like this before.. It was horrible…
Kittens was washed..

They turned out a snow-white "goners"… One of the kittens had a black spot on the head.. but generally.. they were like twins… ran in our flat.. played together all the time..
The soft cat-house, which had been bought or had been given by someone and which adult cats stubbornly neglected, came in handy…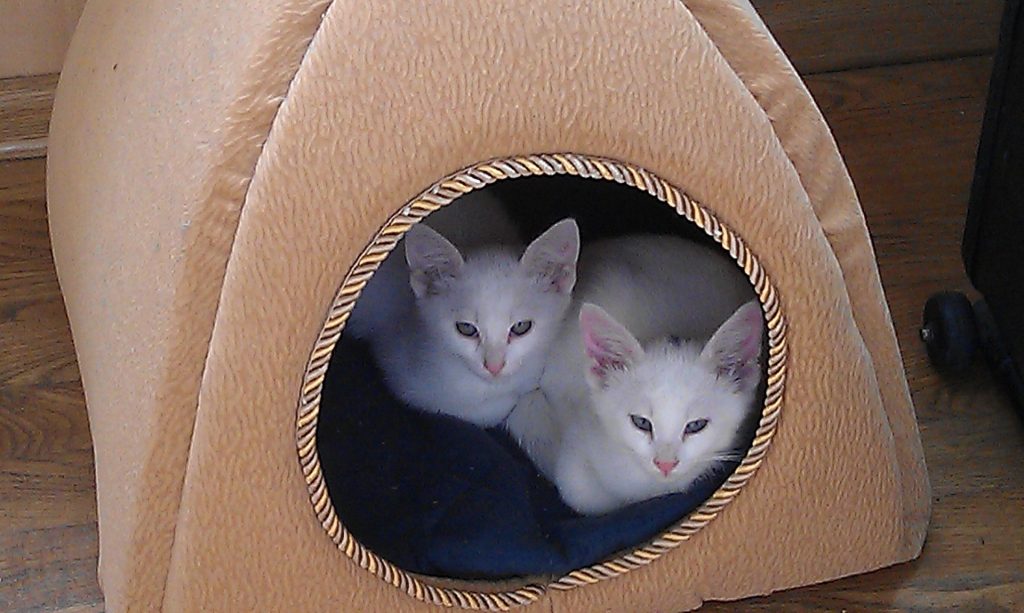 When I lay they are crawling to me and falling asleep in the armpit or by my side.. often, during the sleep, they lay in mirrored postures or copied an each other's posture…
Kittens were cute… tame and very affectionate.. there was no any desire to give them away.. but at that time we considered a three cats in a flat as a limit… and we already had an experience of adoption one ginger kitten near the subway station… Though we were active and experienced Internet users, we were unaware about opportunity to look for adoption on the Internet message boards and social networks…
So I went with a cat-carrier bag and two kittens to a subway exit by the force of habit.
The thing is.. that we'd had a lot of mess with the previously saved ginger kitten.. we had been carrying him to the vet clinic… had been treating him against cat's infections.. had been carrying him from one flat to another.. and then quickly gave him away to a woman near the subway station.. because the next day we should go abroad on vacation… the woman has refused our accompaniment of the kitten to the new house.. she promised to call and to write us.. actually.. the next day her phone became switched off.. we haven't heard about this kitten anymore..
Because of such an experience we decided to be more cautious with the two white Pouché… to carefully inquire prospective owners about the purpose of acquiring a kitten.. to accompany kitten to a new house…
At first, to stand with a kitten in hands was rather uncomfortable… displeasantly.. ashamed… I tried not to look into the eyes of passers-by… but kitten sat rather calmly in my hands, looking on the people that were passing by..
People, that paid attention, unpleasantly surprised me…
Young men wanted to take this kitten as a gift to a girlfriend…
Guest-workers wanted to take him to a place of their temporary accommodation at the construction site..
Someone wanted a live toy for a child…
Some people called to their relatives, consulted with others, promised to return for us.. but didn't come back..
People resented and were bewildered by the questions about their aims of acquiring an animal… its further living conditions… I was forced to ask my questions softly and unobtrusively because I didn't want to scary away prospective owners and at the same time I needed to get the maximal information about a person to whom the kitten would get.
Also I have learned to softly deny to people, giving some grounds for my decision..
After a few hours of standing near the subway entrance a lower back pain began.. then we went to the bench in the nearby park, stood there together with Pouché and I smoked…
The first Pouché went into the carrier-bag to relax.. I took into hands the second Pouché…then we stood again near the stream of people, coming out from the subway…
I was forced to return to the home with kittens the first day… and the next day…
Because I didn't know anything else besides how to stay and to cuddle a kitten near the subway.. and subway is situated in Moscow.. and we lived in suburbs.. so, after a usual unsuccessful standing near the subway we used to go to spend the night to my parents.. to go to the subway again the next morning..
Parents sometimes became bothered because of the kittens and all the fuss with the subway – and we went to spend the night in suburbs… then we returned to Moscow to the subway… this repeated endlessly..
Pouché rode very much on suburban trains and subway during the time of the search for adoption… It was a pity to carry them for so long time… because the subway is a very noisy thing… kittens become frightened, curl up in the bag and try to hide…
As time went by, kittens drank condensed milk, ate forcemeat, played and grew up..
The first Pouché was taken on our usual place, at the subway entrance.. we took a chance and give him away to a young man, which, by his words, lived nearby…
He'd had an old cat which had died after a long period of illness and treatment.. and his family needed a pet… young man called to his sister, consulted..
I was bribed by his responsible attitude.. his stories about the previous animal, how long they had been treating him and that there is nobody who can play his toys now…
All the way to his home he had been listening carefully about how Pouché should be looked after… how he should be fed…Then he has promised us to write about a further life of the cat, took Pouché at the staircase and went up in the elevator..
We were relatively calm… called the next day.. the man said that the kitten is OK… we became worried only a few days later after he hadn't answered our call.. and we realized that we don't know the number of his flat…(
After that, we had been going between Moscow and suburbs together with the second Pouché for a long time…
People began to recognize us on our way to the parent's house..
After some time our relatively easy standing with Pouché, if it can be called so, has ended..
Subway administration and police began to regularly disperse old women that sold flowers and vegetables.. people that handed out fliers.. and us with the kitten…though I tried to convince a policemen..that the kitten is being given away for free so it is not an illegal trade.. anyway, we was stubbornly driven away every day
concurrently we placed an advertisement on a popular buying/selling message board on the Internet.
Suddenly a girl has called in response to our advertisement… which seemed to us a right person… She had a black cat and wanted a white kitten to make him a company..so, we went together with Pouché №2 to Moscow..
Remembering all the previous experience I went with the kitten to the girl's house… but they, actually, didn't let me go into the flat again ))) so I was restricted by the detailed description about how Pouché should be fed and how he should be looked after))
To give away the last Pouché was a very difficult psychologically.. I was giving him away with tears in my eyes…
So many hours we had been standing together near the subway.. all these time the kitten was patiently sitting in my hands in attempt to find an adoption..
Kittens literally had grown up in my hands during the summer
In general.. it was very hard on my soul… my lower back hurt… and I wanted to smoke all the time…
I called to the girl a couple of times… she has assured me that the kitten is fine..
After some time her mobile phone became unavailable… she hasn't called us herself..
So again, it happened that we know nothing about the further life of Pouché №2